Best Waterproof Tablets –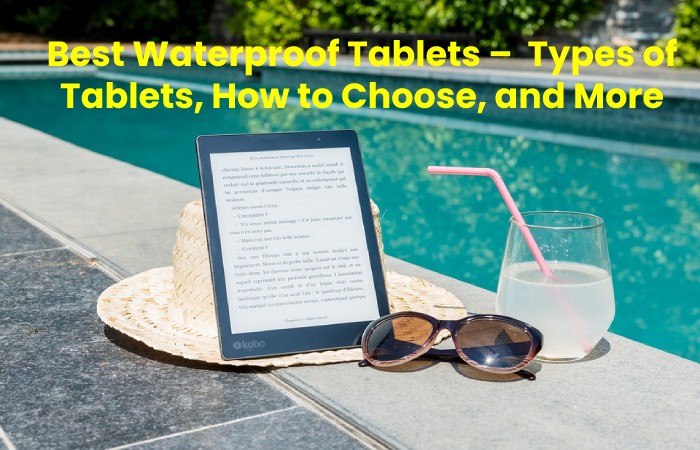 Your tablet drank the broth this summer on the beach, and now you only dream of investing in a waterproof model? The good news is that water-resistant 2-in-1 devices hit the market in 2018! Close-up on this new generation of waterproof tablets.
The Crosscall Core-T4 provides 24-hour 2G / 3G communication, up to 27 days in standby mode and almost 8 hours in geolocation mode with long battery life.
This waterproof tablet should be perfectly suited to hostile and unpredictable environments, including places where athletes and professionals in the field wouldn't even think it could fit! Humidity, drops, shocks, or rain will not affect its performance in any way.
This tablet remains accessible with its dual SIM drawer and the slot for the micro SD card to satisfy the whole family. Its elegance is appropriate for all the trips you have to make. The height of robustness, its design endures even the hectic handling of children.
Description:
The Durabook T7Q waterproof tablet stands out from the crowd with its solid chassis, making it suitable for heavy use. This industrial model will remain operational in all situations, especially in complex environments. It is not only anti to water but also splashing chemicals.
The dustproof system of this waterproof tablet allows it to stay intact in dusty places. Note its screen, which adapts to all lighting levels. In this way, it can efficiently operate in an area with very strong or meager light.
This device offers a fluid and pleasant user experience and essential readability on display. If you see a tablet designed for outdoor use, the Tab Active 2 waterproof tablet is for you!
Ideally suited to follow you on construction sites, its Protection index reaches 68. The waterproof Hidon HR828C tablet not only resists water and dust it is also insensitive to shocks. Finally, the battery has a capacity of 10,000 mAh
How to choose your waterproof tablet?
To satisfy the more adventurous and active, we have grouped below the criteria that help to find the tablet perfectly suited to humid and weather-prone places.
Criterion n ° 1: Certification IP65 or higher
An unscrupulous manufacturer may claim that their digital slate is dust and water-resistant, but in reality, it does not meet the requirements to be completely waterproof. And, ideally, you should give preference to devices with an IP65 or IP68 certificate, which offers these terminals such performance.
Criterion n ° 2: Fall prevention
A waterproof tablet with rubber casing cushions slips to such an extent that it can withstand drops from over a meter in height. The same is true for a device with an ABS body and rubberized edges.
Criterion n ° 3: Shockproof
To prevent the device from being damaged early, make sure that it is resistant to accidental shocks. Rubber protection is also bumping security. That not only protects the digital slate against a violent fall but also from a simple surprise.
Criterion n ° 4: Compatibility with underwater photography equipment
For better underwater shooting, choose a tablet compatible with a waterproof external flash that provides more light at a better angle. Also, make sure that it can work with a wide-angle lens (160 ° or 180 °) and uses a digital SLR system.
Criterion n ° 5: Large capacity memory
You should have enough storage space to take as many photos as you want during the dive. That is why it is better to preference tablets with a capacity of at least 32 GB.
How to read the protection index on a waterproof tablet?
Each tablet assigns a degree of protection in the letters "IP" followed by two numbers. The first digit is the dust protection class, and the second is the water protection class—the scale increase to 6 for solids and 9 for liquids. For example, IP68 offers protection class 6 for solids: the device is fully dustproof, while protection level 8 for water indicates that the gadget submerges under 1m of water. For 30 min.
The different types of waterproof tablets
The differences between waterproof tablets are generally based on two parameters:  the use and the environment. Discover them.
Waterproof, rugged tablet
The rugged, rugged tablet offers a very high level of resistance. It complies with the MIL-STD military standard. This standard includes stability tests, durability, which confirm the levels of resistance to water, pressure at altitude, the environment at high or shallow temperature, thermal shocks, falls, etc.
These tablets provide optimum performance even in conditions that intend for computer equipment use. Thus, they are used in many sectors: oil, agriculture, logistics, marine, construction sites, or construction.
ATEX waterproof shelf
Explosion-proof devices with international ATEX and ETL certifications exist on the market. They plan for use in potentially explosive environments. They are available in versions: standard and optional. ATEX zones usually are specified in the technical documentation.
Also Read: VPN Secure Review – Definition, Advantages, and More
Related posts